Thank you DroneSec, Mike Monnik & Arison Neo for the excellent course! It was a brilliant experience to learn about #drones, their regulations, offensive/defensive operations, and cybersecurity impacts. Look forward to more opportunities in the drone space.

Thanks to Mike Monnik and Arison Neo from DroneSec. The course they have created is second to none taking you from the basics to the advanced side of C-UAS. Being able to get accreditation in the form of a DSOC within the field of C-UAS will help me stand out from the crowd.

Very glad I took this course. The information, case studies, as well as resources were all very valuable - and very insightful. As an attacker, this certainly opened my eyes to many new and interesting avenues to explore (and defend!).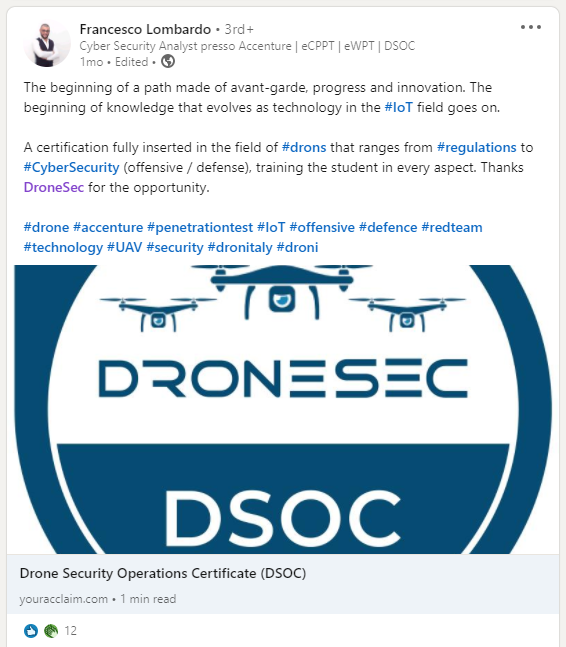 The beginning of a path made of avant-garde, progress and innovation. The beginning of knowledge that evolves as technology in the #IoT field goes on. A certification fully inserted in the field of #drones that ranges from #regulations to #CyberSecurity (offensive / defense), training the student in every aspect. Thanks DroneSec for the opportunity.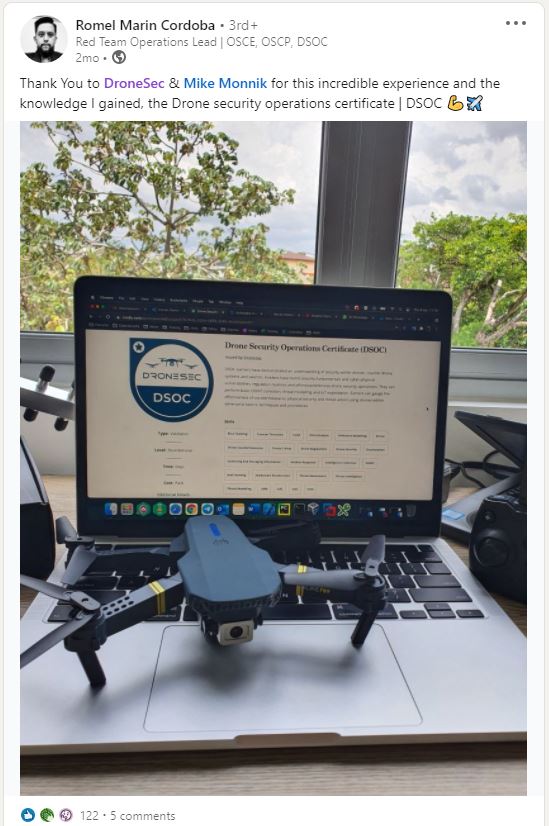 Thank You to DroneSec & Mike Monnik for this incredible experience and the knowledge I gained, the Drone security operations certificate | DSOC.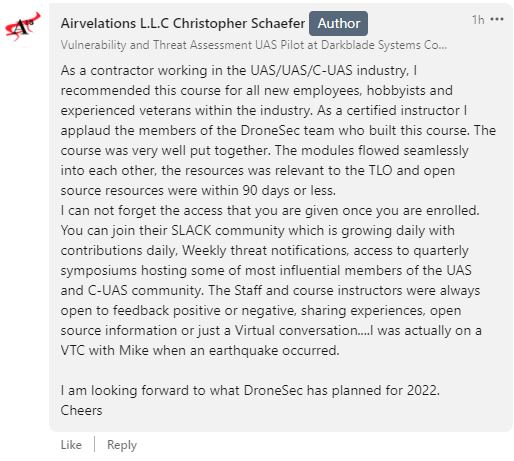 As a contractor working in the UAS/UAS/C-UAS industry, I recommended this course for all new employees, hobbyists and experienced veterans within the industry. As a certified instructor I applaud the members of the DroneSec team who built this course. The course was very well put together. The modules flowed seamlessly into each other, the resources was relevant to the TLO and open source resources were within 90 days or less.
I can not forget the access that you are given once you are enrolled. You can join their SLACK community which is growing daily with contributions daily, weekly threat notifications, access to quarterly symposiums hosting some of most influential members of the UAS and C-UAS community. The Staff and course instructors were always open to feedback positive or negative, sharing experiences, open source information or just a Virtual conversation.... I was actually on a VTC with Mike when an earthquake occurred. I am looking forward to what DroneSec has planned for 2022.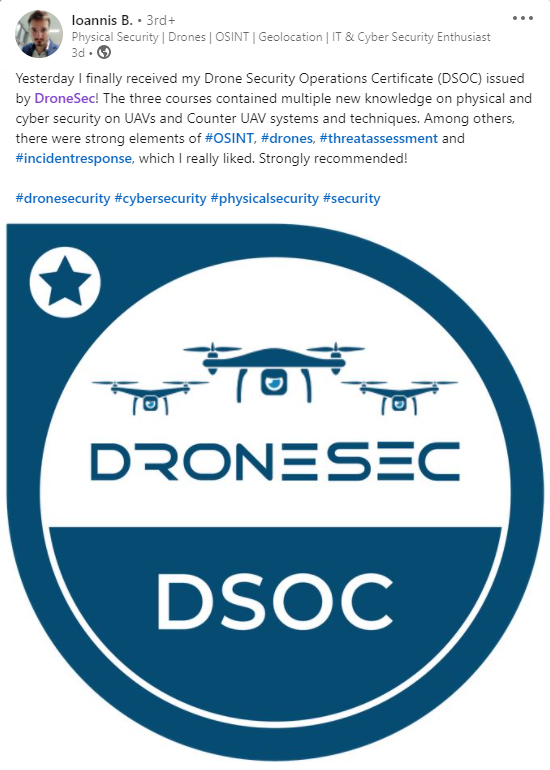 Yesterday I finally received my Drone Security Operations Certificate (DSOC) issued by DroneSec! The three courses contained multiple new knowledge on physical and cyber security on UAVs and Counter UAV systems and techniques. Among others, there were strong elements of #OSINT, #drones, #threatassessment and #incidentresponse, which I really liked. Strongly recommended!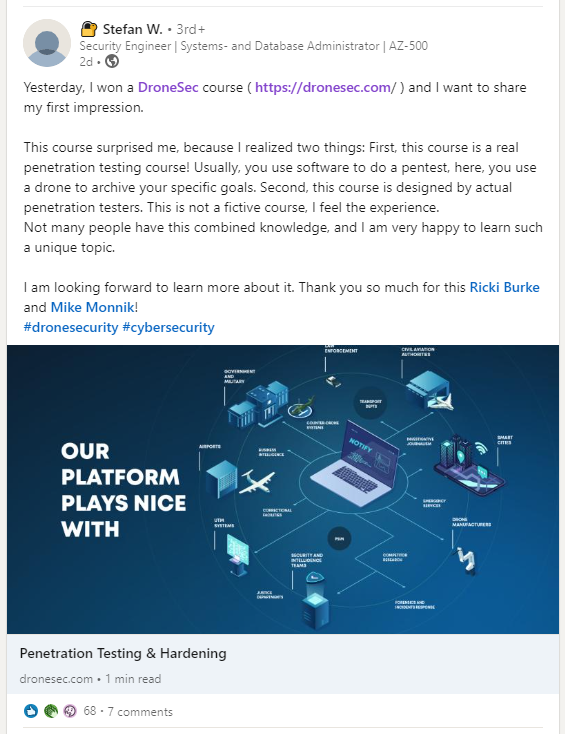 Yesterday, I won a DroneSec course (https://training.dronesec.com) and I want to share my first impression. This course surprised me, because I realized two things: First, this course is a real penetration testing course! Usually, you use software to do a pentest, here, you use a drone to archive your specific goals. Second, this course is designed by actual penetration testers. This is not a fictive course, I feel the experience. Not many people have this combined knowledge, and I am very happy to learn such a unique topic. I am looking forward to learn more about it. Thank you so much for this Ricki Burke and Mike Monnik!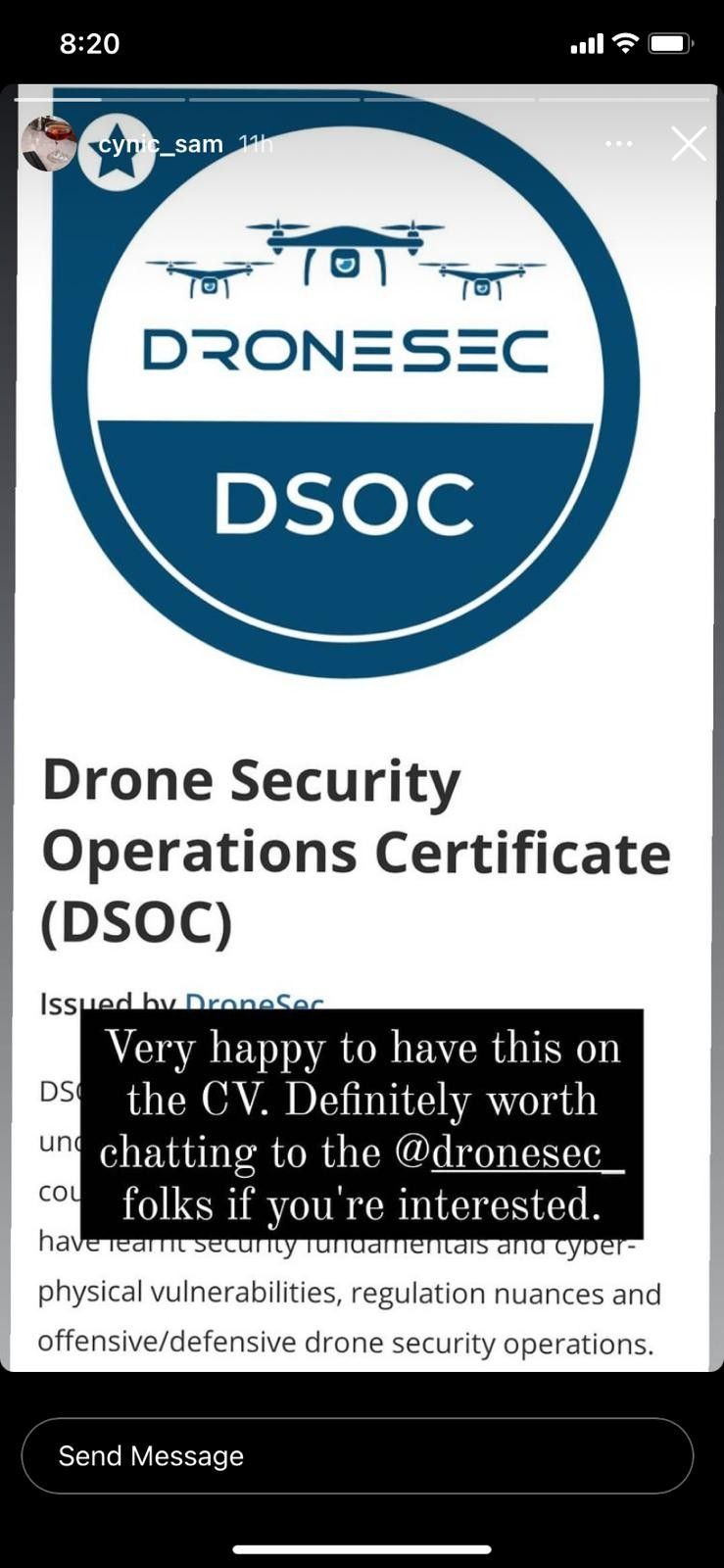 Very happy to have this on the CV. Definitely worth chatting to the @dronesec_ folks if you're interested.
As a UAS Innovator for the last decade and someone who worked with some of the individuals you mentioned on the course, I think you have hit a sweet spot with your material. This would also be great for organisations wanting to understand the fundamentals of what they should be doing to protect national infrastructure.
Department Head
Altitude Angel
I wish to take this opportunity to say that this course is really well crafted and content rich. The use cases and assignments triggered much thoughts in me and I gained much valuable knowledge from DroneSec team. It has been utmost an enjoyable yet enriching course to which I keep up at my own pace due to the online modality of this course.
UAV Ops Unit
Singapore Police Force
I just want to say that I am very glad I took this amazing course. So much effort put into the material and the content by the DroneSec team and instructors. Honestly, at the beginning, I was nervous of the course cost but after finishing it, I really believe it deserves the price. Very valuable course and huge respect for DroneSec and all their team. I will definitely enrol in any future courses your team outs out. Thank you so much for presenting this unique knowledge!
Pentester
Egypt
DroneSec training is a very comprehensive approach to the main topics related with drone security. Overall, I am very pleased with the main structure and content of the course. Being an active-duty military officer, I really appreciated the way that several key concepts were properly addressed (which is quite rare for several non-defence companies), which tells me that the team is well versed in the complexities of detection / recognition / identification and the threat management process. My congratulations to DroneSec for delivering a coherent and professional approach on Drone Security.
Naval Officer
Poland
I thoroughly enjoyed this course from start to finish. I had limited knowledge of Drones before this course bundle and I have expanded my knowledge greatly since taking the course. I'm excited for more courses to come out.
System Analyst
Jacobs
I personally loved this courses and would encourage anyone looking for any Drone Security related courses. This is far one of best courses with detailed explanation by an experienced trainer who knows what his talking about. I have learned alot and I believe anyone taking this course at any time will never regret.
Director
Ibda Group
I am very impressed how this was presented. Providing examples that linked with the photos and the ability to speak clearly about the incident is great. I do like the last final seconds of his lecture when he separates the drone from the incident or threat. Sometimes most forget the drone from start to finish requires a human to start the operation.
Vulnerability and Threat Assessment UAS Pilot
Airvelations
This was very informative with the ongoing growth in the drone industry. This hits the major points!
Co-Founder
Drone Cadets
I believe this course cements a foundation for building in the field of drone security.
Information Security Consultant
Cobalt
I finally had the chance to take this great course. Provides excellent learning content on drone security. I would highly recommend it!
Data Analyst
USA
I definitely like the way the material is presented, that it is digested in advance and easy to use. Separately, I would like to note that the links provided at the end of many sections are really useful!
Senior Penetration Tester
Booz Allen Hamilton
I really liked your material for the drones, especially sections for offensive and cyber security!
Director
Cenobe Cyber Security
Materials and theory provided over the course are highly applicable to the modern world and the links provided for each sections unveiling the new layers behind the slides.
Information Security Consultant
Singapore
As someone who has not been familiar with Drones or DroneSec previously, I can say that I have been really enlightened by the content contained within the module. The concepts explained were very eye-opening and easy to follow. I heavily enjoyed the included forecasts and predictions, as hearing about how the industry is currently growing was quite insightful.
Cyber Security Analyst
Australia
The course is really well done, It presents all the steps to study and deepen for those who face such an innovative and futuristic topic. It covers all the basic scenarios to be understood for those who in the future (or even just for their own knowledge) will want to face this work. Very well structured and very well divided course.
Security Delivery Analyst
Accenture
A well put course on drones would highly recommend.
Data Analyst
Allegient Defense
Seriously one of the best intro's for training I have come across.
Director
Smart Cyber Solutions
Fantastic introduction, looking forward to more!
Security Consultant
BT
Great introduction, Thanks!
Red Team Operations Lead
fSecurity Solutions
It was great. I am completely new to this concept of drone security and I'm super excited to learn a new concept.
Security Analyst
Australian Red Cross Lifeblood
I've been following drone security systems for a few years now and decided to give this course a try. I found that a lot of the info in the fundamentals course I already knew but, its definitely info that anyone looking to join this industry needs to know. That said, I also learned quite a bit just in the fundamentals course!
Director
Omaha Security Solutions
Really a good introduction and nicely setting up the context and providing the background. Looking forward to future courses.
Technical Lead
Sony
Even without coming from a technical background, these comparisons are massively helpful to newcomers like myself. Succinct delineation between indirect and direct threats! Great examples of asymmetric use of UAVs malicious actors. Good highlighting of kinetic/psychological malicious actor use, and modular nature of civilian products.
Sam
Student
Fantastic course, really enjoyed the content, was a great way to break into the drone area, look forward to your future courses!
Director
C-UAS Systems
Great course guys thanks!
BDM
BAE Systems Applied Intelligence
Very practical and mind opening.
Director
Drone Security & Forensics Malaysia
Overall, the module was very good and taught so many things. Keep up the good work.
Physical Security Consultant
Cobalt
From my point of view, the entire course (3 sections) is ideal for people from IT who have no experience in Information Security / IR because the sections are well disclosed and the material is relevant, and even people who are engaged in this can still find something new for themselves. I would like to see in the next courses the analysis of the hardware part since self-made drones have many aspects and also learn more about how it works for those people who are not familiar with the topic.
Information Security Consultant
USA
I'd been looking at doing the course for sometime, I had a very basic understand of CUAS and was looking to broaden it. All the courses compliment each other perfectly and explains all the basics to advanced CUAS. This course is a must for anyone wishing to start out in the CUAS environment. I will be going back to DroneSec for more learning when other courses become available.
Drone Services Consultant
UK
The third module has glanced upon the technical concepts associated with Drone Security, giving me an inside view into what can be expected and experienced when delving into offensive and defensive concepts in all-things Drone related. The course is aimed at students with technical and non-technical backgrounds, making it the perfect entry level course in which inspires one to build more into the technical realm based on interesting and futuristic drone-based infrastructure.
Security Consultant
Accenture
It was a brilliant experience to learn about drones, their regulations, offensive/defensive operations, and cybersecurity impacts. Look forward to more opportunities to learn from DroneSec!
Telecommunications Security Consultant
BT
A very well rounded introduction to C-UAS. Even if you have a basic knowledge of the industry there are a few gems / resources you might not be aware of.
Counter-Drone Analyst
USA
Jump right in
The bundle is the best option to start your journey into Drone Security today.